In the U.S., new innovations in the medical field are opening the door for new forms of treatment for patients. Doctors are opting for more holistic medicines and patients are taking charge of their health, being more involved than ever before. One of the new approaches to treating patients is Functional Medicine. It is a systems biology-based approach that focuses on identifying and addressing the root cause of a disease or condition rather than focusing on solely treating the symptoms a patient may be experiencing.
The goal is to treat the root cause of a medical condition to have lasting health benefits beyond the scope of symptom suppression. Functional medicine practitioners focus on individualized treatment approaches that are patient-specific rather than disease-specific. Using low risk treatments rooted in nutritional science, cellular functions, and biology, functional medicine works to modify molecular and cellular body functions to reverse and prevent the development of medical conditions.
How does functional medicine differ from standard medicine?
Imagine going to your doctor and presenting them with the symptoms you are experiencing. They gather the information you give them then make a treatment plan to reduce those symptoms. They may request certain blood tests to ensure all your levels fall within the "normal" range and prescribe medications accordingly. Great, you will hopefully experience reduced symptoms and be able to return to normal life. But wouldn't it feel even better to receive a diagnosis and a treatment plan that will focus on resolving the condition, reducing the need to take multiple medications for the rest of your life, and ultimately improving your health and wellbeing.
Functional medicine also allows for more personal patient-clinician relationships, offers patients education on their condition and how the human body functions, and empowers patients by giving them the tools to improve their health.
What kinds of medical conditions can be treated with Functional Medicine?
Optimizing the body's normal functions can treat complex and multifaceted health issues, including:
Depression
Anxiety
Chronic Pain and Inflammatory disorders
Hormonal Imbalances
Chronic Debilitating diseases
Adrenal disorders
Chronic Fatigue
Arthritis
Cardiovascular disease
Diabetes
Food sensitivities
Vitamin deficiencies
Weight gain/loss
Autoimmune diseases
Cancer Prevention
Digestive disorders
Alzheimer's and Dementia
Men's Health
Women's Health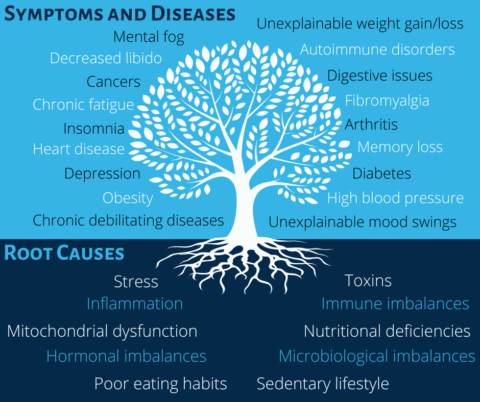 How do functional medicine practitioners treat patients?
Every individual is different genetically and biochemically. All of our bodies have different requirements and needs in order to function optimally. By focusing on each patient's individual characteristics, practitioners are able to find ways for the body's normal healing mechanisms to resolve the problem.
Practitioners have extensive evaluations with their patients, gathering information about:
Personal medical history
Family medical history
Lifestyle and daily habits
Patient's health goals
Potential triggers such as:

Poor nutrition
Stress
Toxins
Allergens
Genetics
They also review in-depth lab results to look for correlations between the physical symptoms and possible concerns on the lab results. Practitioners avoid looking at certain lab results and seeing the "normal" range because they know that every body has different requirements and being in the "normal" range doesn't mean it's enough to fuel their body optimally.
Practitioners encourage patients to take an active role in their health and their treatment. The body is capable of healing itself and preventing many diseases of aging when it is properly cared for and fueled to function optimally. Practitioners use a multifaceted approach to treat conditions and educate patients on their body and its different functions, explaining the importance of the different parts of their treatment, so their chances of successful treatment, as well as a healthy life, are improved.
Treatments include:
Nutritional changes
Lifestyle alterations
Homeopathic remedies
Molecular and cellular modifications and supplements
Herbal and vitamin supplements
Hormonal supplements and replacement medications
Pharmaceutical medications, if needed
The functional medicine model is a patient-specific treatment approach that uses proven scientific methods to empower patients to take part in their health care, while working closely with their practitioner to resolve the underlying causes of their symptoms to work towards the goal of optimal health and wellness. If this sounds like something you are interested in, schedule your free consultation here or call 352-512-9996 to learn more about how we can help you look and feel your best.
Created by: Bailey