There's a new weight loss medication on the market and it has become a key component in weight loss for celebrities, influencers, and socialites. This new medication is called Semaglutide, commonly sold under the brand name of Ozempic or Wegovy. Semaglutide is an FDA-approved prescription medication originally used for treatment of diabetes and obesity, until it was noticed how well it worked to reduce weight in its users.
Since then, it has quickly become one of the most desirable weight loss medications used in conjunction with diet and lifestyle changes. It is rumored that Kim Kardashian used Semaglutide to assist her during her 3 week transformation to lose 16lbs and fit into the famous Marilyn Monroe dress at the Met Gala. Elon Musk took to Twitter to credit his new "fit, ripped, and healthy look" to a combination of "fasting and Wegovy".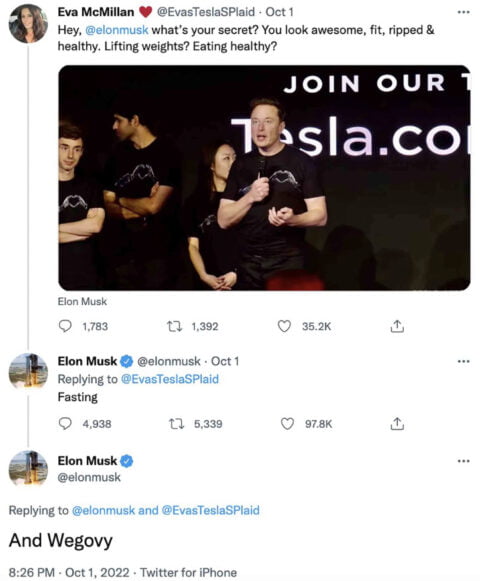 So what is Semaglutide and how does it work?
Semaglutide is a type of medication known as a GLP-1 receptor agonist. This means that it mimics the same biological responses of the naturally occurring hormone GLP-1.
This hormone is responsible for multiple reactions in the body, including:
Slows the rate of digestion
Controls insulin release into the bloodstream
Sends signals to the brain to satiate feelings of hunger and cravings.
The result of these reactions makes a person feel full for longer periods of time and reduces cravings for certain foods like sugary or salty snacks, essentially working as a stimulant–free appetite suppressant. 
When combined with a low calorie and low carb diet and increased exercise, it can speed up and assist weight loss. One study showed that over a 68 week period of time, participants who received once weekly injections of Semaglutide experienced an increased loss of 15% to 20% from their starting weight, compared to only 5% loss in participants who weren't receiving injections.
Is it safe?
After learning about the way Semaglutide works in the body and how much it increases weight loss, it's completely reasonable to wonder if this medication is safe or without any negative side effects. Just like any other medication, there are potential side effects that may be experienced initially but Semaglutide is safe for most people.
It is not uncommon for patients starting on a new dose to experience some minor side effects such as:
nausea
stomach upset
other symptoms of digestive upset
This is completely normal and should not be alarming to patients, it's just how the body initially reacts to the changes in digestive hormone release. To reduce the severity of these pesky symptoms, we have anti-nausea medications available to patients and we follow a Dose Escalation protocol.
We start all patients on a low dose (0.5mg) for the first two weeks in order to slowly introduce the medication into the body. As the body adjusts, we can increase the dose if needed since everyone's bodies react differently to medications, allowing us to find the perfect dose needed for each individual patient.
Before starting on Semaglutide, patients are screened by one of our clinical staff members to ensure that it is completely safe for them to receive it and to answer any questions a patient may have. Just like any other prescription medication, patients are regularly monitored by our clinical staff to ensure they are experiencing the desired weight loss results safely and efficiently.
How fast will I lose weight?
Most of our weight loss patients start to notice the weight loss effects of Semaglutide within their first week, averaging a loss of 5-8lbs within those first 7 days. We have even had patients on our 12 week program lose up to 60lbs using Semaglutide, though results may vary person to person.
We start all patients on a low dose (0.5mg) for the first two weeks in order to slowly introduce the medication into the body. As the body adjusts, we can increase the dose if needed since everyone's bodies are different and react differently. This process is called Dose Escalation, it is designed to help reduce the severity of potential side effects from stronger doses and gives patients the ability to find the perfect dose for them.
The biggest factors affecting how much and how fast a person will lose weight on Semaglutide are their eating and exercise habits. This medication works best for weight loss when combined with a low calorie and low carbohydrate diet with regular exercise, that is why we require all patients receiving Semaglutide to be on our medically supervised weight loss program. Our certified weight loss coaches guide you every step of the way, to not only reach your weight loss goals, but also to provide education and tips to help you create healthy habits and lifestyle changes to maintain that goal weight long after you stop Semaglutide and our program.
How much weight can I lose?
In 2021 the STEP 1 study on Semaglutide for weight loss was published in The New England Journal of Medicine. This 68 week clinical trial involved 1,961 participants split into two groups, Semaglutide plus lifestyle intervention and placebo with lifestyle intervention only. The results of this study showed that the Semaglutide group lost an average of 14.9% from their starting weight, whereas the placebo group lost an average of 2.4% from their starting weight. Some of the participants in the Semaglutide group even lost upwards of 20% from their starting weight!
We have seen huge success with Semaglutide in patients on our weight loss program. We have had patients lose anywhere between 30lbs and 60lbs in 12-16 weeks with this medication. It's important to note that although this medication played a role in these patients' amazing weight loss results, it was not the sole reason for it. These incredible weight loss results are proof of the commitment and hard work that these patients put into changing their lives. Just like any other weight loss medication, Semaglutide is used as an aid to a weight loss program, not as an alternative to healthy eating and exercise habits. Patients who commit to the lifestyle change are the ones losing the most weight on Semaglutide.
There is no definitive answer to the question of how much weight can be lost with Semaglutide. Everyone's bodies are different and lose weight at different rates, individual amount of weight lost will depend on that person's level of commitment to the program, but clinical research and our patients' experiences are evidence of Semaglutide's impressive ability to enhance weight loss results that could be otherwise unachievable with diet and exercise alone.
Ready to get started?
So now that you've got the skinny on this powerful new weight loss medication, are you ready to get started? Call us at 352-512-9996 or click here to schedule your free consultation with a weight loss coach to get started!
Written by: Bailey