Recharge Clinic is proud to now offer therapy services to all existing and new patients. We offer adult, minor, senior, couples, and family sessions. Therapy can help someone recognize topics that may be affecting their mental health and teach them skills that they can use to cope with the symptoms that present themselves as a result of that topic.
Why Therapy?
Everyone faces challenges and struggles throughout their life, and sometimes those challenges can have a strong, lasting effect on a person mentally. There is a serious stigma about seeking therapy or counseling that can make it difficult for someone to reach out for help. Seeking help from a therapist does not mean that there is something wrong with you, or that you aren't strong enough to handle life's challenges. On the contrary, being able to recognize the benefits of seeking therapy shows a significant step forward on the path of self-care. Therapy can give someone the ability to learn life-long skills that someone can use to improve their relationships with others, mental and physical well-being, and overall quality of life.
How Common are Mental Health Issues?
Mental health is an important part of a person's health and ability to participate in life to the fullest. Having a mental health issue does not mean there is something wrong with you. The definition of mental health simply refers to a person's state of mental and emotional well-being. Having poor mental health does not necessarily mean that you have a mental illness, which is a diagnosed condition that affects your thoughts, behaviors, and interactions with others. Therapy isn't available to only treat those with a diagnosed mental illness, anyone can benefit from therapy.
An estimated 52.9 millions adults aged 18 and older suffered from a mental health condition - this equates to about 1 in 5 American adults, or 21% of the population
Young adults between the ages of 18-25 made up about 30.6% of that total
1 in 6 children between the ages of 2-8 years old were diagnosed with a mental, developmental, or behavioral disorder. This equals about 17.4% of the population between those ages
Among children age 3-17 years old, the most commonly diagnosed mental problems were:

ADHD, approx. 6.0 million (9.8%)
Anxiety, approx. 5.8 million (9.4%)
Depression, approx. 2.7 million (4.4%)
Other behavior problems, approx. 5.5 million (8.9%)

Children who experienced three or more adverse childhood events (ACE) such as physical/mental/sexual abuse, witnessing drug or alcohol abuse of a family member, or witnessing physical/mental/sexual abuse of a family member had a higher rate of prevalence of a mental, emotional, or behavior disorder when compared to children who had zero reported ACEs

Approx. 36.3% of the recorded child population with 3 or more reported ACEs versus 11% who had 0 reported ACEs
Regardless of age, untreated mental health issues usually get worse over time and can have an increasingly negative effect on a person's daily life. Therapy is recommended when a person's emotional distress or mental health issues have an effect on a person's daily life, social interactions, or ability to perform different functions.
Common signs that it is time to seek therapy include:
Difficulty going to work or school
Changes in eating or sleeping habits
Disregard of basic needs of dependents such as children or pets
Conflicts in your relationships and commitment issues
Unhealthy coping mechanisms such as drugs, alcohol, food, etc.
Constant feelings or anxiety or worry
Thoughts or actions of self harm and suicidal ideology
When is it time for me to consider therapy?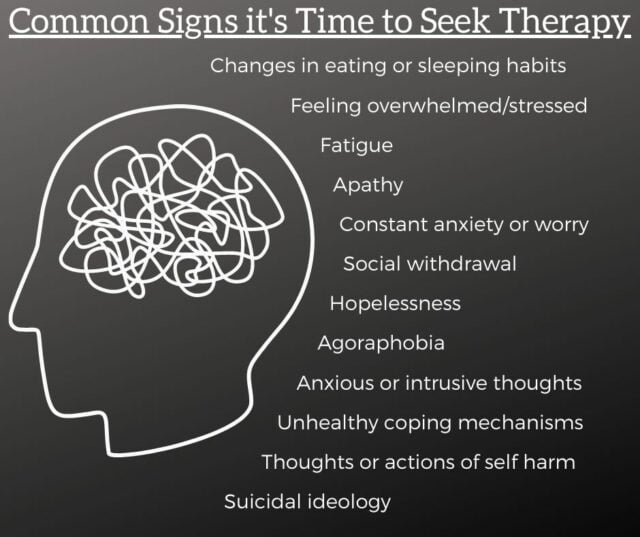 There comes a time when trying to cope with a mental health issue on your own becomes overwhelming and difficult. Seeking professional help can help you learn to understand and manage the symptoms of your emotional distress in a healthy way. There are possible signs that it may be time to seek professional help to improve your mental health.
Feeling overwhelmed/stressed - feeling like you have too much to do or too many issues to manage. It can feel like you're drowning or unable to rest.
Fatigue - this is a common indication of underlying depression and can cause you to sleep more than usual or make it feel difficult to get out of bed in the morning.
Anxious or intrusive thoughts - feeling worried or having thoughts that you aren't doing well enough in life can take a huge toll on a person's mental well-being.
Apathy - also a common indication of underlying depression, apathy is the feeling of losing interest in your normal activities, as well as losing interest in loved one's lives or life in general.
Disproportionate rage, anger, and resentment - when these feelings seem extreme compared to the situation or when they linger long after the situation occurred, and potentially lead to violent or harmful actions, there may be a reason that can be recognized in therapy.
Hopelessness - feeling like you have no motivation to do anything or feeling as if you have no future can indicate you may be suffering from a mental health issue.
Social withdrawal - feeling uncomfortable or overwhelmed around other people, can lead to a fear of being around other people and ruin relationships.
Agoraphobia - this is the fear of being somewhere that a person may experience a panic attack or become trapped in that place. This phobia can cripple a person mentally, even making a person feel like it is unsafe to leave their home.
What if I've tried therapy before and it didn't work?
There are many reasons why therapy may not have worked for you in the past. Finding the right therapist for you is like dating in a way. Different therapists have different approaches and styles of treatment that may or may not work for you. It's important to do your research and meet with potential therapists to see if they're "the one". If you've been previously diagnosed with a specific illness, that can help narrow down the search. If you don't have a diagnosis but feel the need to seek help, contacting therapists and setting up an introduction session can be very helpful. You can have the chance to explain your feelings and symptoms, they can get to know you, and if things feel right that's great! If they don't, at least that therapist can make recommendations to point you in the direction to find "the one". This is the best way to go about seeking out a therapist because it reduces the potential of a patient walking away from therapy, saying "this isn't for me" and giving up. If therapy didn't work before, maybe it wasn't the right therapist/patient match. The important thing to remember is that you are on a journey to a healthier life and the reward will be worth the time it may take to find the right help for you.
Created by: Bailey